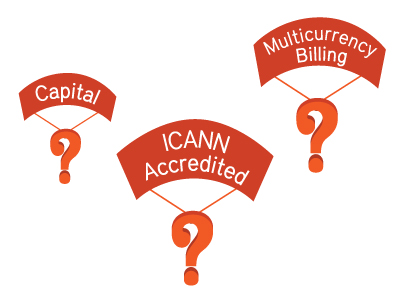 You may choose not to have Namewrap,
but at the same time you may face
limited resources problem.

As reseller, you need to be an ICANN accredited for most of the domain extensions, and you know that you must have enough capital (at least USD $ 70,000). Moreover, as registrar, you may expand your businesses and move your service into faster integration into gTLDs or ccTLDs, but do you have an excellent platform that can support multicurrency billing or over 75+ integrated payment gateways?
Thus,
What You Need Is
Namewrap.
Namewrap, is a platform where developed for domain name registrars, or reseller that demand full process of automation, flexibility and scalability at the lowest cost of ownership. Namewrap offers domain name registrars a fully customizable storefront for branding purposes, plug and play with all EPP-based domain name registries using their own registrar credentials, support for multiple payment gateways, languages and currencies. Moreover, It also allows registrar to recruit their own resellers and empower them with the same Namewrap platform to sell and manage domain names.

Also, Namewrap was developed based on the registry-registrar system architecture that supports over 1 million domain names. The heart of Namewrap is built upon business automation software that provides a complete client management, billing and support solution for registrars. The software is pre-integrated with over 100 gTLD and ccTLD domain name registries, hence it fast-tracks the service activation for newly accredited registrars.

Quick start your registrar business now! Please visit Dot Everything Platform (link)to know more!